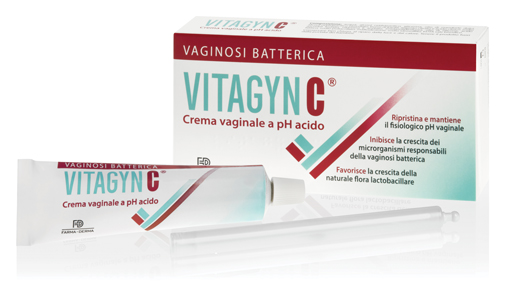 VAGINAL CREAM WITH ACID pH
Indications
VITAGYN C vaginal cream is indicated as adjuvant treatment and in the prevention of bacterial vaginosis and recurrent urinary infections. Its use is particularly useful in relapsing subjects and after pharmacological therapies using antibiotics. VITAGYN C vaginal cream restores and maintains the physiological pH of the vagina and it helps the natural lactobacillary flora to grow. In this way it prevents the onset of conditions that facilitate the development of bacterial vaginosis, also during pregnancy.
Instructions for use
Apply VITAGYN C vaginal cream once a day, preferably in the evening before bedtime, for 6 consecutive days. For maintenance 1-2 applications a week for 12 weeks or more.
Composition:
water, cetyl-stearyl alcohol, glycerine, sweet almonds oil, cetyl-stearyl alcohol ethoxylate, shea butter, silver citrate and citric acid, sodium ascorbyl phosphate, vitamin E acetate, imidazolidinylurea, silicone oil, lactic acid, sodium polyacrylate, maltodextrins, sodium hydrosulfite, EDTA bisodium salt.
Package:
tube of 30 g with 6 single-use applicators.