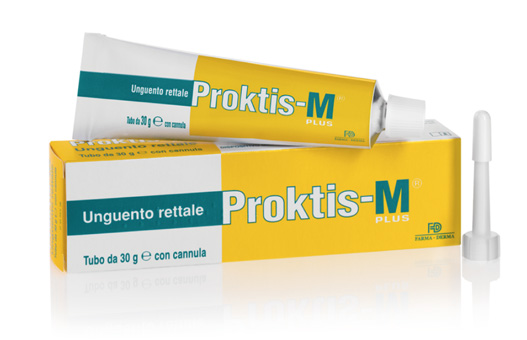 RECTAL OINTMENT
Indications
Adjuvant treatment of the repairing process of the anus-rectal canal after proctologic surgery; internal and external haemorrhoids; proctitis; cryptitis, anal rhagades; fissures; perianal fistulas.
Instructions for use
Two applications per day, one in the morning and one in the evening, if possible after the evacuation of faeces, by applying locally a thin layer of the ointment. The intrarectal application is facilitated by the appropriate cannula which is included in the package.
Composition:
white vaseline, liquid paraffin, propylene glycol, polidocanol, escin beta-sitosterol phytosomes, glycyrrhetic acid phytosomes, BHT, hyaluronic acid sodic salt.
Package:
tube of 30 g with applicator cannula.


---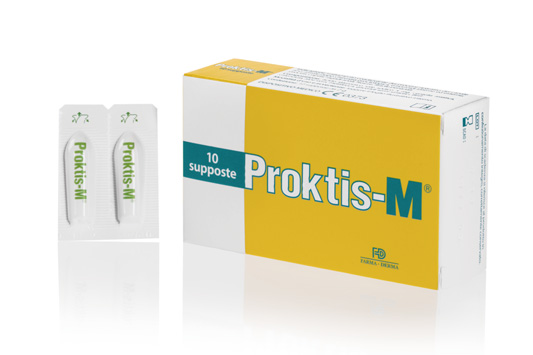 SUPPOSITORIES
Indications
Adjuvant treatment of reparative processes of the anorectal canal following proctological surgery; internal and external haemorrhoids; proctitis; cryptitis; anal rhagades; fissures; perianal fistulae.
Instructions for use
Use one suppository per day, preferably in the evening before bedtime, or according to medical prescription. The duration of use depends on the evolution of symptoms; if necessary, it can be used for long periods.
Composition:
hyaluronic acid sodium salt, Centella asiatica, Calendula, Aloe vera, Melaleuca, semi-synthetic glycerides, BHT.
Package:
10 suppositories of 2 g.


---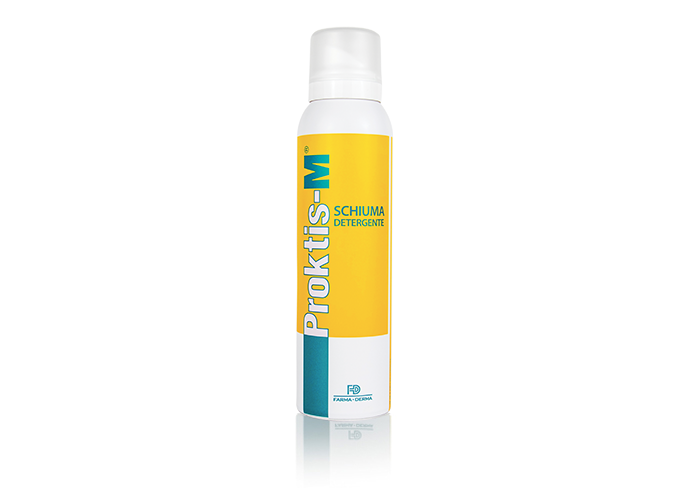 CLEANSING FOAM
Indications
Specific cleanser with soothing, emollient and cooling action for the daily hygiene of the perianal mucosa. The application without rubbing makes the use of PROKTIS-M foam particularly suitable after surgical interventions and in the presence of proctological problems.

Instructions for use
Shake well before use. Holding the spray bottle upside down, spray the product directly on the perianal mucosa at a distance of about 10 cm, by gently pressing the spray nozzle. Wait 20-30 seconds before rinsing with water. Pat dry with a soft cloth.

Composition: aqua, sodium lauroyl sarcosinate, glycerin, cocamidopropyl hydroxysultaine, butane, sodium cocoamphoacetate, isobutane, propane, propylene glycol, sodium chloride, PEG-12 dimethicone, citric acid, Mentha Piperita oil, menthyl lactate, bisabolol, chlorhexidine digluconate, escin, Centella Asiatica leaf extract, Calendula Officinalis flower extract, Prunus Amygdalus Dulcis oil.

Package: spray bottle of 150 ml.