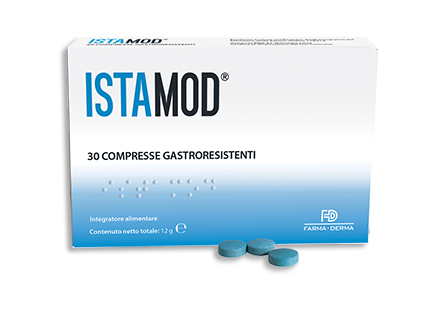 ENTERIC COATED TABLETS
Indications
Food supplement based on vitamin D3 and vegetable extracts of Perilla, Caper, Currant and Black Pepper. Vitamin D3 helps the normal function of the immune system and Perilla extract contributes to improve the body's natural defences.
Instructions for use
It is recommended to swallow 1 tablet twice a day, with some water, preferably between meals.
Ingredients: Perilla (Perilla frutescens (L.) Britton, seed) dry extract tit. 10% polyphenols; Bulking agents: cellulose, dicalcium phosphate, hydroxypropyl cellulose, tricalcium phosphate; Caper (Capparis spinosa L., fruit) dry extract; coating agents: hydroxypropylmethylcellulose, ethylcellulose, talc, polyethylene glycol, sodium alginate, medium-chain triglycerides, fatty acids; Black Pepper (Piper nigrum L., fruit) dry extract tit. 95% Piperine; Vitamin D3 (Cholecalciferol); Currant (Ribes nigrum L., leaf) dry extract; anti-caking agents: magnesium salts of fatty acids, silicon dioxide; colourings: calcium carbonate, brilliant blue FCF.
GLUTEN FREE - LACTOSE FREE
Package:
30 tablets of 0.4 g