ORODISPERSIBLE POWDER
Indications
Symptomatic treatment of gastrointestinal disorders due to the presence of gas, such as swelling of the stomach (bloating) and intestines (flatulence) and pain associated with them (cramps, irritable bowel, belching, flatulence). Treatment of functional dyspeptic symptoms, characterized by stomach bloating and heaviness after meals, slow digestion, frequent belching, nausea. Preparation for diagnostic tests in the abdominal region, such as endoscopy or ultrasonography and radiography for the decrease in opacity due to the presence of gas.
Instructions for use
It must be taken after main meals.
Symptomatic treatment of gastrointestinal diseases, adult and adolescent from 14 years old: 1 or 2 sachets after each main meal. Do not exceed the daily dose of 6 sachets.
Preparation for diagnostic tests, adult and adolescent from 14 years old: 6 sachets during the day, the day before the exam. One sachet in the morning of the test.
The duration of use depends on the evolution of symptoms. If necessary for the resolution of symptoms, DIGERFAST orodispersible powder can be taken for prolonged periods. In any case, if a doctor has not been consulted, do not prolong the use for more than 4 consecutive weeks. In case of persistent and recurrent abdominal disorders, consult your doctor to identify the causes of the disorders.
Composition:
sweetener: sorbitol (from corn or wheat); potassium citrate, simethicone, silicon dioxide, acidity regulator: citric acid; cola flavor, lemon flavor, sweetener: sucralose.
Package:
24 single-dose sachets of 2 g.


---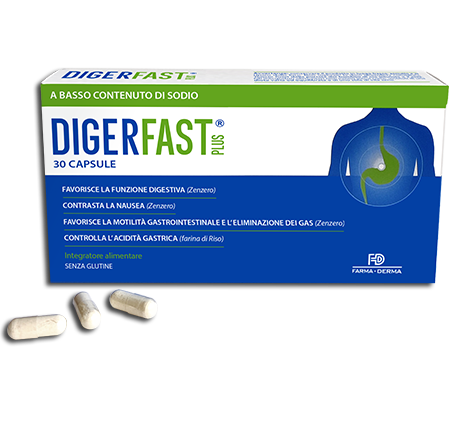 CAPSULES
Indications
DIGERFAST PLUS is a food supplement based on ginger, rice flour, magnesium and B-group vitamins (B1, B2 and B6). Ginger has digestive and anti-nausea action, helps to favor gastrointestinal motility and elimination of gases, as well as to counteract localized states of tension and menstrual cycle disorders. Rice flour promotes the control of gastric acidity and has an emollient and soothing action at the level of the digestive system. Magnesium contributes to the maintenance of electrolyte balance.

Instructions for use
It is recommended to take 1 or 2 capsules after each main meal, in case of need even before the night rest.

Ingredients: acidity regulators: citric acid, monopotassium citrate; rice flour (Oryza Sativa L.) seeds; casing: edible gelatine; magnesium salts of citric acid; maltodextrins; enzyme complex from fermented plant substrates (alpha-amylase, protease, cellulase, beta-D-galactosidase, lipase); ginger rhizome dry extract tit. 5% in gingerols (Zingiber officinale Rosc.); anti-caking agents: magnesium salts of fatty acids, silicon dioxide; Vitamin B6 (Pyridoxine hydrochloride), Vitamin B2 (Riboflavin), Vitamin B1 (Thiamine hydrochloride).

GLUTEN FREE

Package: 30 capsules of 0.576 g